BOURNE ACHIEVED LEVEL 2 RIGHTS RESPECTING SCHOOL AWARD FROM UNICEF IN MAY 2018.
Bourne Community College are proud to be a Rights Respecting School. Rights Respecting is an initiative run by UNICEF UK that puts the rights of the students at the heart of our practice. These rights have been put into a Convention, and at Bourne Community College, we ensure that we place this Convention at the centre of our planning, teaching, policies, and ethos.
Bourne Community College have been awarded the Gold Award for this initiative. This means that all staff and students understand the Convention and know how these rights affect them daily. As a school, we ensure that the Convention underpins all practice, and we take this responsibility very seriously, not only teaching about the convention, but by also modelling rights, responsibilities and respect in all our relationships. Alongside this, all curriculum areas provide high quality learning opportunities for students within their subject area and we endeavour to ensure that students feel safe. Students are actively encouraged to make informed decisions about health and well-being, and we strive to ensure that students feel valued within our school and community.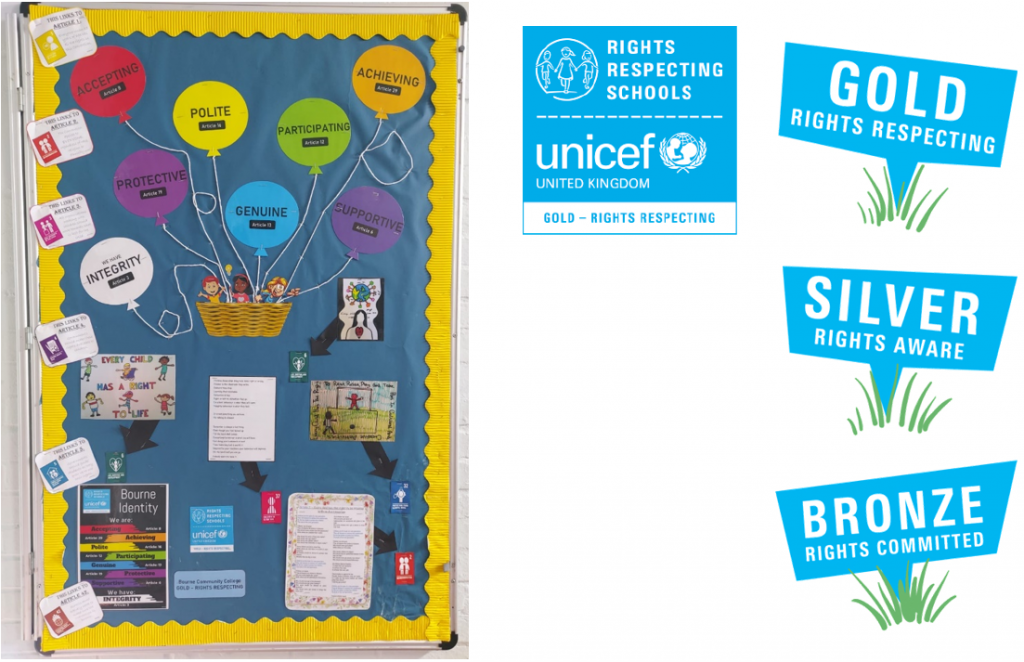 !function(e,t,n,s,u,a){e.twq||(s=e.twq=function(){s.exe?s.exe.apply(s,arguments):s.queue.push(arguments); },s.version='1.1',s.queue=[],u=t.createElement(n),u.async=!0,u.src='//static.ads-twitter.com/uwt.js', a=t.getElementsByTagName(n)[0],a.parentNode.insertBefore(u,a))}(window,document,'script'); // Insert Twitter Pixel ID and Standard Event data below twq('init','o60pi'); twq('track','PageView');